currently being translated
From Jana's TG Manga and Anime Pages:
Koyoki goes to Tokyo and move next door to the boy Shirohai that she liked in High school. When she went to visit, a girl greeted the door instead, Whom she thought was the boy's girlfriend or older sister turns out it was Shirohai Sempai. What happened? Shirohai confessed to the captain of the Oandan, but the captain turned him down...saying he's not interested in men, so Shirohai came back six month later with some changes and they have been living together since. He is hiding from his family, since his father will kill him if he finds out, he was raised to be the man of men so his family can't find out.
Genre
Comedy Gender Bender
from the creator of karin/chibi vampire and something else...* will look it up later...*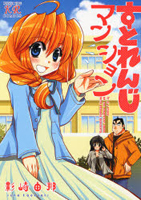 _________________
~neko mimi mode~